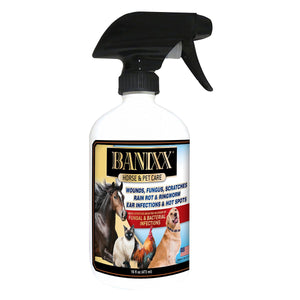 Banixx Horse & Pet Care
Regular price
$25.99
$0.00
Unique pH formula for all pets. Can be used on foals, puppies, kittens, rabbits, birds, show goats, sheep, cattle, exotic pets and more. Fast-acting, affordable solution for every horse or livestock owner to keep in the barn! For skin problems such as wounds, itchy skin, fungus, ringworm, skin infections, scratches, rain rot, thrush, white line disease, ear infections, hot spots and insect bites. Antibacterial and antifungal. Non-irritating to tissue and no burn! Clinically proven safe around eye. Safe around mouth. No smell, making administration a breeze! Earth-friendly; no antibiotics/steroids; non-toxic. No color.

Contains 2.5% hydronium solution.

Directions: For wounds, fungus, skin infections, scratches, ringworm and rain rot - Apply liberally. Repeat twice daily, as needed. For thrush, hoof abscesses and white line disease - Apply boot to infected foot. Add 3-4 oz of Banixx. Repeat daily for 4-5 days. For best results, use immediately after professional has removed diseased tissue and keep boot on during treatment.
---
Share this Product
---
More from this collection