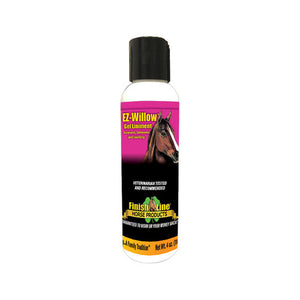 EZ-Willow Gel Liniment for Horses
Regular price
$34.99
$0.00
May be used over any muscles including the back and shoulders. May also be used on legs, over joints, tendons or ligaments. May be applied to the coronary bands. May be painted on feet and soles prior to training or racing. For daily use on feet, EZ-Willow Poultice is recommended.
Contains isopropanol, menthol, methyl salicylate, MSM, arnica Montana, white willow, lemon balm oil, tea tree oil, turmeric, yerba mate, glycerol, water, hydrophyllic polymer base and triethanolamine.
Directions: Clean affected areas thoroughly before use. May be used before and/or after exercise. Rub down affected area with EZ-Willow Liniment. Leave uncovered or cover with a wrap.
If for any reason you are not satisfied with a Finish Line product, simply write to Finish Line and send your returned product back for a refund or replacement, whichever you prefer.
---
Share this Product
---
More from this collection